looking for our photo packages? click on the "packages tab"
Workshops at our venue
- 40's & 50's in a flash
- 1940's/50's Full Glamour workshop
- Pinup Glamour Portraits

Workshops at your venue
- Hens nights
- Corporate groups
- Dance school's workshops
- Wedding hair & makeup
- Functions
- Private or Corporate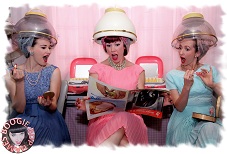 Workshops
This is not like going to the hairdressers to have your hair styled for that one off occasion, at Boogie Bop Dames workshops we give you the tools & a sneaky peak into the tricks of the trade to achieve the stunning hairstyles of the 1940's & the 1950's so that every time you get the urge to look like a glam, you can!  Miss Pixie has over 30 years experience in vintage glamour so learn from someone with a wealth of knowledge & experience!
Use the taught skills as little or as often as you like! We don't only work on your hairstyling skills, but we also dabble in the makeup side of things, once again 40's & 50's style, You know, that flawless skin with emphasis on eyes & ruby red, luscious lips!

These workshops are for the everyday gal, no prior knowledge in hair or makeup needed at all, just the want to look glamourous! Its all in the paint gals... you have the canvas now let me show you how to create the masterpiece!
Workshops at our venue
Endulge yourself in our 50's beauty parlour
40's & 50's in a flash Workshop
If you want the 1940's/50's glamour look in a flash then join Miss Pixie because this is the workshop for you!
This is a 3 hour workshop where we show you a variety of 1940's & 1950's hairstyles that you can achieve on yourself in way under an hour.These hairstyles are achieved by hand! We give you the skills necessary to achieve stunning hairstyles for that everyday glamour gal!
What we cover:
We go through victory rolls, quiffs, pomps & pincurls to name but a few

We go through different ways of putting up the back of your hair in a flash

We include how to make use of hair accessories such as scarves,

flowers & other pretty things

We cover basic 50's makeup application to give you that flawless dolly look

We supply all necessary hair products, you need to only bring your makeup
Please note that these workshops are strictly for personal use only. We offer our workshops for those ladies that want to make themselves look & feel like a true vintage doll.
Duration- 3 hours
Places available- exclusive workshop, spaces are limited in our Sydney studio to 6 gals in total
Cost- $170-
When: TBA (contact boogiebopdames@bigpond.com for bookings) 
Where; Parklea, Sydney      
Time: 12pm-3pm
for more information, please contact us


top
1940's/50's Full Glamour Workshop
This workshop is definately full glamour! Everyone of the gals that have done this workshop have walked out of our parlour looking like a silver screen goddess! Learn from Miss Pixie the art of creating 1940's & 1950's hairstyles with a "full set" using  heated rollers. This is a skill that can not be learnt anywhere else!

What we cover:
Choose a varitey of hairstyles to practise

instruction & assistance in setting your hair, full set front & back using heated rollers

learn tricks of the trade

full use of all of our vintage equipment

lunch provided, 50's style of coarse!

instruction & assistance in styling your hair

instruction & assistance in applying makeup, 40's/50's style
We supply all you could possibly need for your hair, you only need to bring along your makeup!

Please make sure you have plans to go out after this workshop as you are going to look far too gorgeous to stay home! This course is exclusively offered by Boogie Bop Dames

Duration: 6 hours workshop
Places available: exclusive workshop for up to 6 gals at a time
Cost: $220- per person per session at our beauty parlour
Venue: 
When: Saturday the 16th of Spetember
time: 10am-4pm
Pinup Posing/deportment Workshop
How about some good old fashioned deportment.
learn how to present yourself with confidence in everyday life.. build your self esteem! Miss Pixie shares her years of experience with you to make you feel like a true Pinup Girl !
In this 3 hour workshop we will be covering:
Self Presentation

Poture

Walking techniques for everyday/stage/catwalk

how to accessorize  and make use of props

what suits each individual body shape, how to look your best

Pinup Posing
Duration: 3 hours
Places Available: ...book in quick to avoid disapointment!
Cost: $180- per gal
When: TBA
Time: 2-5 pm
email us now to reserve your spot!
For more information please contact us


top

Pinup Glamour Portraits
Please see our "Pinups" pinup glamour portraits page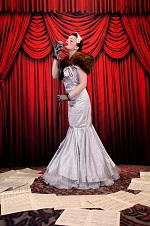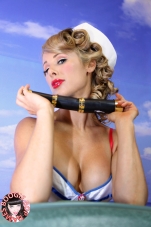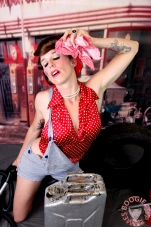 Workshops at your venue
Hens nights
Your place or mine!
Do you want to have a hens night that is different form all others? The norm is to all meet up, have some dinner & then go out to a club....Why not have a hens night to remember!

What better way is there to enjoy a night out with the gals then to play makeup & hair.... glamour style! You could even do this before you go out to play, but this way, you are all going to look amazing....1950's style! When you walk into a room those heads are definantly going to turn!

We can run this like a mini workshop, where the girls all get involved doing their own hair & makeup with instruction & assistance, or we can do it for you! We can also offer you group pinup portraits or learn a burlesque routine with the gals!

Your options are endless so please contact us & we can cater a package to your needs!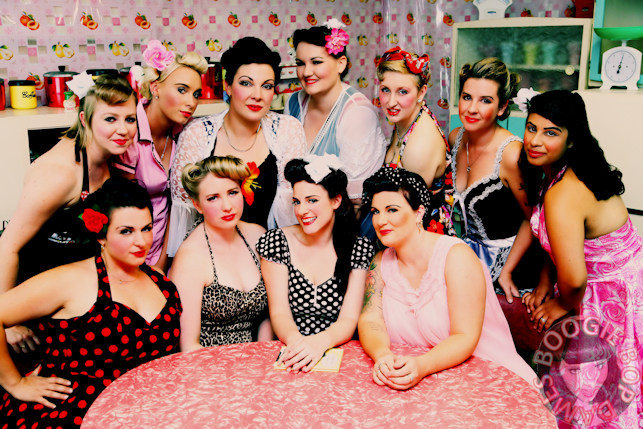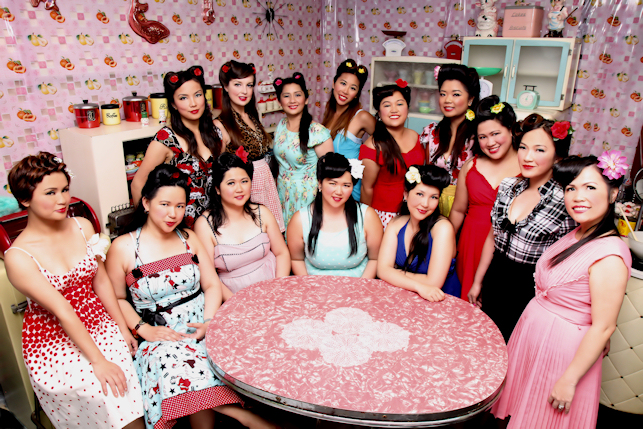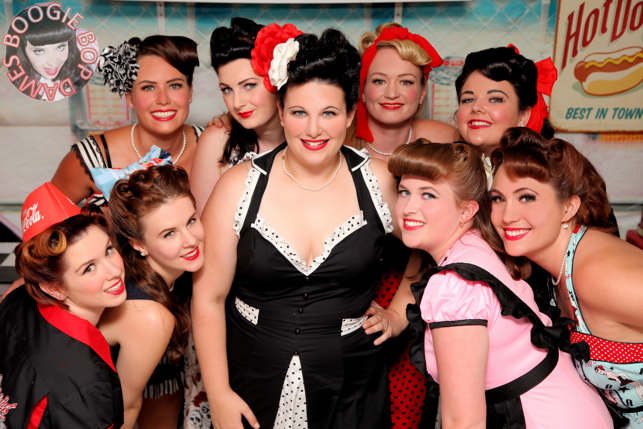 top


Corporate groups

Boogie Bop Dames can offer you endless ways of structuring our workshops to suit your needs. Do not hesitate to contact us to discuss what would work best for your business.

This is a great bonding session for your staff or clients, teaching them to work closely with other as well as the skills to achieve goals on their own. These sessions also give women good grooming techniques as appearance is very important in any business, Not only on a work level but also on a personal level which helps to build self esteem.


top
Dance school workshops
Do you teach swing, lindy hop, rock'n'roll or rockabilly? Wouldn't it be nice if your students not only danced the part & dressed the part but also knew how to do their hair & makeup? The answer is yes yes yes!!!

We at Boogie Bop Dames can come to your dance school & run a workshop for your students so that they can look & feel like the whole package!

The choice is yours as to which sort of workshop we run, we can run a "Forties in a flash" or a full glamour workshop.

We generally try to limit the number of gals in any one workshop to 20 which allows us to give each & everyone of them our personal attention.
Its important to us that when the workshop is finished the girls look fabulous,so that means hair & makeup done& everyone happy with how they look!

Other dance schools have arranged this workshop for their student before one of their school social dances so that the girls get a chance to strut their stuff!

Please don't hesitate to contact us to discuss further what you would like to offer your students.


top
Wedding Hair & Makeup
Your getting married, how cool is that! The question is, how sensational would you like to look on this very special day?
At Boogie Bop Dames, we specialize in Glamorous hair & makeup & offer our services to you, your bridal party & mother of the bride that 1940's/50's look for your day to remember.
We take great pride in making you look your absolute best for a day that you will always treasure. No matter what style your headpiece , veil & dress is we can create a masterpiece with your hair & makeup.
We can also do many different modern upstyles if that is your preferred look.
Why not contact us so that we can disguss your numerous options!
Please contact us for further information


top
Functions
Private or Corporate
You can obtain the services of Boogie Bop Dames to make your function fun & full of 1950's eye candy!
Even the most conservative of people like to let their hair down (So to speak ) every now & then & there is no better way of doing that then looking like Elvis Presley, James Dean or Marilyn Monroe!

What we can offer you
we set up a stand that will resemble a 1950's hair salon

we style your guests hair both women & men

we can apply 1950's lushious makeup
Its amazing how much people actually enjoy this experience!

We can also offer you a 50's themed photo booth where we take photographs of your guests aganist a fabulous background & use 50's props to give it that authentic flavour!
Please contact us to discuss your function & what your options are.


top
Dance classes
 Not offered at the moment

top
We have the entertainment that you want for your function! We can basically cover any dance style/theme & we can also get your guests involved with alittle lesson to get them up on the floor & having a ball!
Your options are endless so give us a call to have a chat


top